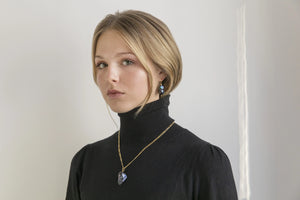 Black pearls for your evening outfit
Black pearls: rebellious, but at the same time noble and timeless. This is what the black pearl earrings by CONTESSA BERLIN embody. Especially when it should be a little more elegant, you are perfectly styled with dark baroque pearl earrings. The sophisticated color spectacle is reminiscent of the rare Northern Lights in Scandinavia. The Tahitian pearl earrings and the matching necklace with Tahitian pearls are particularly fascinating.

Straight to the categories.