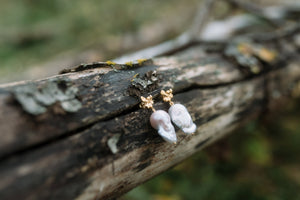 Baroque Pearl Earrings & Studs
Whether large pearl earrings or subtle ear studs: CONTESSA BERLIN stands for handmade Danish jewelery design and offers earrings with real freshwater pearls. Whether you prefer gold to silver when it comes to hoop earrings, or you love dangling pearl earrings, we've got you covered. Brand new: In addition to baroque pearls, we also have earrings with Tahitian pearls and Akoya pearls for you!

Straight to the categories.
Barockperlen Ohrringe gesucht?
Bei CONTESSA BERLIN findest du eine breite Auswahl an einzigartigen und wunderschönen Ohrringen mit Barockperlen. Wir sind stolz darauf, einige der besten Barockperlen Ohrringe auf dem Markt anzubieten, die deinen Look perfekt aufwerten oder ergänzen können. Besonders beliebt ist unsere Kollektion von Barockperlen Ohrringen bei Frauen, die elegante und stilvolle Accessoires suchen. Egal ob du dein Alltagsoutfit aufpeppen möchtest oder du einem Abendkleid: unsere Barockperlen Ohrringe sind die perfekte Wahl.
Große Barockperlen Ohrringe sind unsere Spezialität.
Unsere Auswahl an großen Barockperlen Ohrringen umfasst verschiedene Stile und Designs. So findest du sicher etwas, das zu jedem Anlass und Geschmack passt. Diese Ohrringe sind ein Blickfang und können deinen Look in Sekundenschnelle aufwerten. Wir bieten auch Barockperlenohrringe in Gold an, die deinen Look mit einem Hauch von Luxus und Eleganz versehen. Sichere dir noch heute ein Schmuckstück, das dich zum Strahlen bringt!
Barockperlen Ohrstecker – unser Tipp, falls es etwas weniger schwingen soll.
Diese Ohrringe sind etwas Besonderes: Die Stecker sind klein und dezent, aber dennoch wunderschön und elegant. Der Clou: Dadurch, dass die Ohrstecker ganz nah an deinem Ohrläppchen sitzen, kannst du den optischen Effekt kaschieren, dass es "hinunter gezogen" erscheint. Das gleiche gilt für die Perlen. Somit empfehlen sie sich ideal für Frauen, die nach einem dezenten Schmuckstück suchen, das ihre Persönlichkeit unterstreicht. Unsere Barockperlen Ohrstecker gibt es in verschiedenen Farben und Designs, so dass du garantiert ein Paar findest, das perfekt zu dir passt.
Barockperlenohrringe Gold oder Silber?
Ob bei Barockperlen Silber oder Vergoldung gewählt wird, hängt schlicht von deinem Geschmack ab! Viele Frauen kombinieren heutzutage sogar Silberschmuck und vergoldete Stücke. Was unsere Barockperlenohrringe angeht sei darauf hingewiesen, dass wir hierfür nur auf hochwertige Materialien setzen. Jedes einzelne Stück ist zudem von Kirstine, der Gründerin von CONTESSA BERLIN, handgefertigt. Jedes Schmuckstück ist wahrhaft einzigartig und von höchster Qualität. Wichtig ist uns, dir ein Schmuckstück bereitzustellen, das dein Outfit vervollständigt und deine Persönlichkeit und deinen Stil unterstreicht.