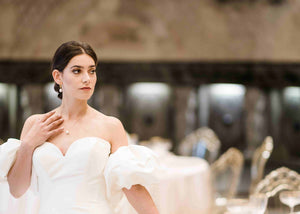 Pearl jewelery for the wedding - classic elegance interpreted in an "unbourgeois" way

From earrings to necklaces to bracelets, contemporary pearl jewelry is a great choice for brides looking for a classic yet timeless look. By the way: The term "bridal jewellery" sounds a lot more antiquated than we mean. All of our wedding jewelery pieces are great for a boho wedding or if you're into Scandi chic. They are handmade by Kirstine personally in Berlin and therefore really special jewelry with meaning. It is also very important that after the wedding you can wear the jewelry for everyday life or for a special occasion.

Jewelry for every day. Our categories.