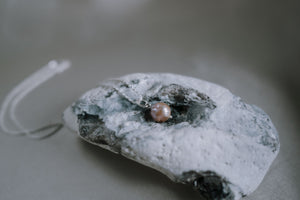 Necklaces with baroque pearls and individually

Whether you are looking for a silver necklace with a pendant for every day or prefer gold pearl necklaces: our handmade freshwater pearl necklaces are timeless unique pieces. The pendants are real, natural baroque pearls. Create your own layered look: from the Figaro chain or cord chain to the delicate Venetian chain. The necklaces can also be worn as a choker necklace. By the way, we also have Tahitian pearl necklaces and necklaces with Akoya pearls! The pendants can also be bought individually, i.e. without a chain.
Straight to the categories.
Barockperlenkette – ein Klassiker für deine Schmuckkiste
Eine Barockperlenkette zu kaufen ist eine Entscheidung, die man nicht bereuen wird. Ja, Barockperlenketten sind im Vergleich zu anderen Perlenketten teurer, aber sie bieten auch Vorteile, die sie von anderen Perlenketten unterscheiden. Kirstine: "Eine Barockperlenkette ist in meinen Augen ein absolutes Must-Have-Piece. Es gibt wohl kaum ein Schmuckstück, das so einen individuellen Akzent verleiht wie solch eine Perlenkette".
Klassisch und modern zugleich: Barockperlenketten sind Allrounder
Die unregelmäßige Form der Perlen, die von Natur aus entsteht, macht jede Kette einzigartig. Die Farbpalette von Barockperlen reicht von zarten Pastelltönen verleiht jeder Kette einen Hauch von Eleganz. Durch ihre Unregelmäßigkeit eignen sich Barockperlen auch perfekt für den Trend des modernen Schmucks, der auf asymmetrische und ungleichmäßige Formen setzt.
Barock Perlenkette kaufen – Eine Investition, die sich lohnt.
Barockperlenketten sind kostbar und behalten ihren Wert über die Jahre hinweg. Eine Barockperlenkette zu kaufen, ist also auch eine Investition in die Zukunft. Mit ihr zeigt man, dass man sich für das Besondere und Einzigartige begeistert und eine Vorliebe für Natürlichkeit hat. Wenn Sie eine Barockperlenkette kaufen, investieren Sie nicht nur in ein Schmuckstück, sondern auch in ein Stück Einzigartigkeit und Eleganz, das Sie ein Leben lang begleiten wird.
Vielseitigkeit von Perlenketten mit Barockperlen
Barockperlenketten sind sehr vielseitig und passen zu vielen verschiedenen Outfits und Anlässen. Sowohl zu einem legeren Look als auch zu einem formellen Anlass kannst du sie tragen. Eine Barockperlenkette kann deinem Outfit den perfekten Hauch von Eleganz und Raffinesse verleihen.