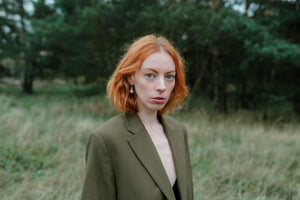 SKOV. A personal collection.
I am happy to present my collection to you. SKOV is Danish and means "forest" in German. For me it is a place of rest and inspiration. This is how this collection came about with some completely new approaches: For example, I offer you two Ear Crawlers. These are stud earrings that decorate your earlobe in a very special way. I'm also playing with set zirconia stones and tumalines for the first time. Even in the relatively young category of chain earrings, I'm bringing out something new today with the LYSEFJORD: solid and graceful at the same time.
Have fun discovering! Your Kirstine
Straight to the categories.