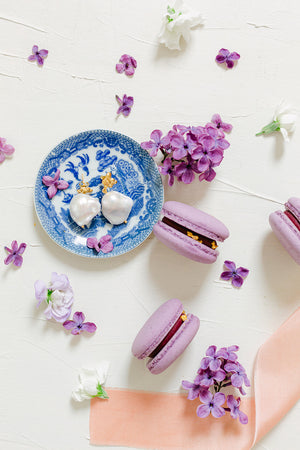 VALENTINE'S DAY.
Spoil your love and/or yourself.
A little guide to Valentine's Day.
Hey, even if it doesn't really need a special date: February 14th. it's a nice marker in the calendar! The trend of giving yourself a gift is becoming increasingly popular!
Love, Kirstine
The perfect earrings for Valentine's Day. With heart. And cubic zirconia.
Gifts by category.
Do you already have a rough idea of ​​whether you want earrings, rings or necklaces? Then find your perfect gift here!
Our gift packaging.
For many of my clients (male and female) wrapping Christmas presents is a major hassle. I'll take care of that for you!
In the ordering process you only need to "wrap as a gift?" at the point. to put a tick. Your order will then be wrapped in high-quality paper and tied with a pretty bow.
Local shopping in Berlin.
Would you like to see the pieces of jewelery "in real life" and get advice? Then book an appointment now and come by! You can find my small showroom in Berlin Prenzlauer Berg.
Very popular for Valentine's Day: jewelery sets.
I am often asked which necklace goes with which earrings. I have put together some nice "packages" with pieces of jewelery that fit together perfectly.
By the way, Valentin also saves a little compared to the individual prices. If you don't like it, the earrings or necklace can also be returned individually.
FAQ / The most frequently asked questions about buying gifts:
All purchases can be returned within 14 days of receipt without any problems.
In general: Please no later than Friday, February 10th. order.
Sure, of course! Together we will definitely find the right thing. Call us on: 030 23499841 or write an email to: graf at contessaberlin.com
Yes, I would be happy to show you the pieces of jewelry and advise you personally in my small showroom in Berlin. You can book an appointment here.
Yes, you can easily add this to the order process for free. We use a very high quality wrapping paper and a beautiful bow.