LIMFJORD // Halskette aus Sterlingsilber mit Barockperle
What distinguishes CONTESSA BERLIN from other jewelry labels?
Organic forms and exciting structures. Kirstine creates jewelry with character in careful handwork. Inspired by the design tradition and nature of her Danish homeland.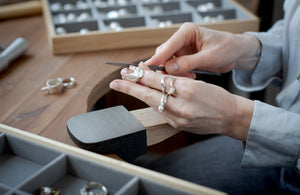 Danish design. Handmade in Berlin.
Founder Kirstine makes each piece of jewelery herself.
Learn more!
Which category are you interested in?