Sehr apartes Armband. Für mich war es etwas zu groß- ich habe ein Kettenglied entfernen lassen. Sieht genauso aus wie auf der Abbildung.
Hej Marie, danke dir! Toll, dass es dir nach der kleinen Anpassung jetzt genau passt! LG, Kirstine
Das Armband sieht toll aus und ist für mich perfekt für den Sommer.
Lieblingsarmband
Ich werde ständig auf das schöne Armband angesprochen :)
Am liebsten trage ich es zu den Rosenlund Ohrringe - Perfekt !!!
Hej Elke, kann ich bestätigen: Das MADALENA Armband zieht auf jeden Fall die Blicke auf sich und manch mutige Frau traut sich dann auch zu fragen, wo man das denn bitteschön her hat ;-)) LG Kirstine
Sehr schönes Armband
Toll verarbeitet, gute Qualität, originelles Design!
What distinguishes CONTESSA BERLIN from other jewelry labels?
Organic forms and exciting structures. Kirstine creates jewelry with character in careful handwork. Inspired by the design tradition and nature of her Danish homeland.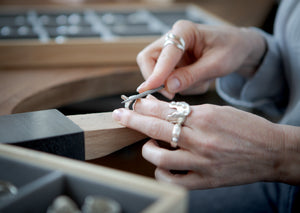 Danish design. Handmade in Berlin.
Founder Kirstine makes each piece of jewelery herself.
Learn more!
Next LEVEL Statement.
The FJELLSTRAND ear studs in 585 gold.
You want one more level? Then you should definitely take a look at the FJELLSTRAND in real gold! A perfect combination of statement piece and supreme elegance.
Which category are you interested in?