ALLES WUNDERBAR!
VON DER VERPACKUNG BIS ZUR PERLE ALLES GANZ TOLL! WUNDERSCHÖN! DANKE!
Hej Linda, herzlichen Dank! Bei CONTESSA BERLIN geht tatsächlich alles durch meine Hände und ich gebe mir größte Mühe, auch für die Details ;-) Toll, dass du das so wertschätzt! LG, Kirstine
Daumen hoch für die Kette
Eine sehr geschmackvoll gearbeitete Kette aus wunderschön schimmernden Perlen. Schön, dass man den Verschluss und die Länge individuell bestimmen kann.
Lieben Dank, Birgit! Für meine Kundinnen gehe ich gern auf kleine Individualisierungswünsche ein :-) Weiterhin viel Freude mit der Kette! LG Kirstine
What distinguishes CONTESSA BERLIN from other jewelry labels?
Organic forms and exciting structures. Kirstine creates jewelry with character in careful handwork. Inspired by the design tradition and nature of her Danish homeland.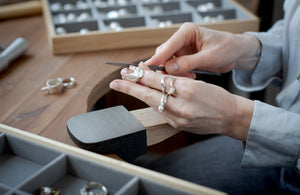 Danish design. Handmade in Berlin.
Founder Kirstine makes each piece of jewelery herself.
Learn more!
Which category are you interested in?